Hi All,
Here's your weekly dose of "5-Bullet Tuesday", list of things I'm enjoying or pondering.
Quote I'm pondering —
 "When I was 5 years old, my mother always told me that happiness was the key to life.
When I went to school, teacher asked me what I wanted to be when I grew up. I wrote down 'happy'.
Teacher told me I didn't understand the assignment, and I told her she didn't understand life!"
― John Lennon
John Lennon got it right very early in his life. We want happiness above everything else we want in life – that luxury car, a dream bungalow, family trip to Hawai'i, or even an appreciation note.
Yet, the irony is that I have to write a broadcast to remind myself and you about that!
What I've understood about Happiness–
Jonathan Fields, in the Good Life Project, says that in order to make a happy fulfilled day, we need three buckets to be filled.
These three buckets are that of – Connection, Contribution and Vitality.  
However, these three buckets have little holes at the bottom, which means the buckets have to be filled every single day. And a near empty bucket drags the levels of other buckets down with it.
If you're not too sure if today turned out to be a fulfilling day, then take some actions to fill these three buckets tomorrow.
For me, I will connect over tea with a colleague (Connection), deliver that presentation in a world class way (Contribution), and spend half an hour in nature (Vitality)
What I'm reading—
Before we get to that, let's play a bit of Kaun Banega Crorepati (well without the crores, of course):
Take this short quiz to test your knowledge about the world today. Use a paper and pen down your answers:
How many people in the world have access to electricity?

A. 20 percent
B. 50 percent
C. 80 percent

How many of the world's 1-year-old children today have been vaccinated against some disease?

A. 20 percent
B. 50 percent
C. 80 percent

In the last 20 years, the proportion of the world population living in extreme poverty has:

A. Doubled
B. Halved
C. Stayed the same
Well, the book I'm reading is called Factfulness: Ten Reasons We're Wrong About The World – And Why Things Are Better Than You Think, by Hans Rosling.
 These questions above are from this book.
Correct answers (to be read upside down): ᗺ.Ɛ Ͻ.ᄅ Ͻ.Ɩ
If you were somewhat wrong or even if you were mostly wrong, don't fret! Most well read people including top professionals from various industries get this wrong.
The author makes his point that the world is indeed much better place than we think. Interesting read with many well researched facts.
So, just in case you were thinking that everything is worsening by the day – climate change, world population, terrorism et al., let me tell you that things are better than you think.
And it will be even better, if you smile.
New Term I've Learnt—
You have surely heard about absenteeism, but that's not as big a problem in today's anxious world. The real problem in today's world is presenteeism.
Presenteeism is when you show up at work (or even college) for the sake of it, just so that your boss, teacher or colleagues notice it.
It is the practice of being present at one's place of work especially as a manifestation of insecurity about one's job.
When you step out for work tomorrow, ask yourself the two key things you will achieve. And then work towards those, without worrying about whether anyone is noticing you or not.
That will reduce your integrity gap and keeps the anxiety levels in control.
What I'm watching—
I rented the movie "Wonder" from YouTube to watch it again this weekend. It was such a delight to watch it with the entire family. Everyone loved it from beginning till end.
It is based on the book by the same title and tells the story of 10 year old Auggie who was born with a rare medical facial deformity.  He has been home-schooled but as he approaches fifth grade, his parents decide to enrol him to school for the first time.
There are many lessons about relationships and happiness in the movie. And the biggest precept for me was …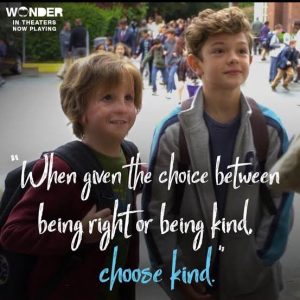 ---
If you like this post, then show the love by sharing it with friends and family. The best part of writing a blog is the discussion that follows, so do register your thoughts and views below.
---