"What should I do?"
"What should I do?"
"What should I do?"
Shouted Tanav, my 10 year old son.
It seemed as if whatever Deepti, my wife, was answering was falling on deaf ears..
In fact, it was worse. Every time Deepti suggested something to do to him, it was met with a loud "No!", "No!", "No!" and then the set of same questions came yet again:
"What should I do?"
"What should I do?"
"What should I do?"
The dramatic effect soared greater heights with every new iteration. Deepti's attempt at maintaining calm was fading away. Tanav was on a roll (well, literally) on the floor, and the overall audio-visual effects accentuated the impact!

As you can guess, the situation was soon out of control.

That's a common story at our home. Every other day these questions set come back. And, I don't recall even once when any of the options presented by me or Deepti have been received in a welcoming way. Not once.
"Why's that?", I have often wondered, but never have I found a convincing answer!
But I have kept searching for the answer. They say, "What you seek is seeking you!" and I finally found the answer in an unusual way, and without even realizing it.
What happened is that I myself ended up being in a situation where I didn't know what to do. With my life.
Deep down within myself, I ended up shouting out the same set of questions:
"What should I do?"
"What should I do?"
"What should I do?"
I asked friends too. And each time someone advised, I too, like the kids, was infuriated and shouted, "No!", "No!", "No!" and, before long, the set of same questions came yet again, and again and again.
I was trying to find what was the right thing for me to do. However, I couldn't find any help with that!
It was yet another meanigless morning. I was struggling to even find a reason to get dressed for work. The sameness of my days was haunting me so much that I was tempted to ask myself, "Is it yesterday or today?"
I paid little heed to the words emanating from the kitchen. It was Mom, who has a habit of singing old, long lost phrases while working in the kitchen:
Kiya karo kuch kiya karo udhaed kae bhi siya karo. (Hindi)
Do Something. Anything.  Even if it means to unstitch a cloth only to stitch it again. (English translation)
Although I had hardly paid any attenton to that, but I believe that phrase had a seminal impact on my 'decision' in the evening.. a decision to do something.

I decided to stand for the position of President and VP-Education for our Toastmaster's club. Something that was out of my comfort zone – a stetch goal but not an unrealistic one. I felt better. Happier.
I considered why I would be the right person for the job. How will I serve the members. I prepared a speech. (You can find the speech here!) I did this. I did that. I had a purpose. I was busy working toward that.
I understood the way out of the situation when you don't quite know what to do. In that sutuation, no matter what anyone suggests to you- your boss, your spouse, your friend, you will never find happiness in that.
Even if.. the suggestion came with the best of intentions.
Even if.. it was the right thing for you to do.
Even if.. it was the most fun thing to do.
"Why?" you'd ask.
Well, simply because it was their decision and not yours! That's it!
The only way out of the situation is to decide yourself. Do listen to others, but then (and don't delay too much!), after all, decide yourself – it's fine if that decision is impeccably right, or downright wrong. Decide to do something. Decide to not do something. But decide. And yourself.
"Why?" you'd ask again.
Because more than the coutome, you will be happier that you decided: Something. Anything. Doesn't matter if it's right or wrong. Whether it will succeed or fail. It's your's after all. That's why you will cherish it.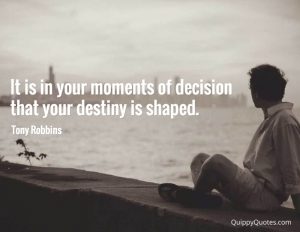 After the election process was done, I achieved my goal of being a part of the Executive committee for the club.
I reached home and shared the news, "Know what sweetheart, I am the VP-Education for this term". Of course everyone at home cheered.
A little later, Dinky, my wife asked me, "Are you happy?"
I said, "Yes I'm happy I am the VP-Education! But I'm even more happier for the moment when I decided I want to be so!"
Coincidently, I held that position before as well, but that time it was just offered to me and I took it. The happiness didn't last a day. It was all over even before it started. This time is different though. It's my baby. I love it.
As for my real babies, I had barely finished writing this blog, when Sohana, my 5 year old daughter asked, "What should I do?"
I put my laptop aside and said "Well, as for me, I have decided to go out for a walk, may be you can decide something to do too!"
Next thing I see is that Sohana and her brother are wearing their jackets and boots to step out in the chill to play in the park.
I have my script ready for times to come when this question would be asked.
"Well, as for me, I have decided to ___, may be you can decide something to do too!"
Only pre-requisite: Be upto something yourself too. Soon, it will rub off on them. Fill the ____ with what you have decided to do at the time. Such as:
___ : write a poem for family
___ : read Becoming by Michele Obama
___ : go for a morning walk
I thought they might be perplexed with that response. To which I would simply respond, "It's okay sweetheart. Now Decide. Commit. Believe. Act."

---
If you like this post, then show the love by sharing it with friends and family. The best part of writing a blog is the  discussion that follows, so do register your thoughts and views below.

---