Daddy, I have a surprise for you!"
Tanav, my 6 year old son, shouted from inside the living room, as Champa, our helper was opening the door for me. It was about 6 o'clock in the evening and Deepti and I were just back from work.
"I cant imagine how happy you'd be when you know what it is!", He said.
I was more happy to realize that my little son is now grown up enough to give me surprises! It just fills your heart, you know!
He ran to his toy room and came back with his hands wrapped around something just enough to tantalize me.
"What is it, Tanav?", I asked curiously.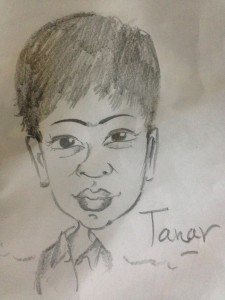 He unwrapped his little hands from around it and what I saw really amazed me.
It was my lost and now found pen!
"What's so special about a pen?", is what you are thinking, right?
Well, nothing, except when it is my pen. I have several and love each one. Each one has part of my life in it. If I lose one, it hurts. No, it bleeds!
Ask a writer what his pen means to him. 
You may still be trying to come to terms with my unique obsession, but my little boy, Tanav knows it very well. To tell you a little secret, and to warn you: I have kleptomaniacal tendencies when it comes to any stationary items!
"Wooow!", I said.
Nothing could have been a better surprise for me. Not at this time, for sure! 
This was an expensive pen which I had gifted myself a few months back. It was lost a few days back at Mussourie, where we'd been on a vacation.
Perhaps the room cleaners misplaced it, or stole it. That couldn't be true though. Why would any one want to steal a pen? Not unless they really intended to play with my emotions.
Heartbroken, I had written it off. Collateral damage! But the images of it had kept coming back even to this day.
And now, it was in front of me! Like a dream come true.
Tanav had found it in his pouch while he was playing with Sohana, his 2 year old sister.
My little son knew what's my top of mind.
Do you know what is at the top of your wife's mind, your son's, your daughter's?
I bet you don't. Because our minds are usually preoccupied with useless thoughts, such as:
..the bad bad world.

..what will they think?

..he/ she (sometimes even the spouse!) is trying to walk away with all the credit!

..the weather!

..death and what happens after?
Do these thoughts help you or your family in any way?
While we are focusing on fear, worry, or hate, it is not possible for us to be experiencing happiness, enthusiasm or love.
If you're still thinking what is your loved one's top of mind, let me just say,
he that seeketh, findeth!
My wife's top concern is the WIFI on her MotoX phone which hasn't been working. It's been over 2 months. I have been coolly ignoring it. It's not my problem, after all!
But the smile it would bring to her face if I do get it fixed would be worth the effort. This week. Or a new phone.
Be present. Know the top of mind of your loved ones. And be intentional about doing what you can once you know it.
Your little effort may give them the wings to fly or at least get them an inch closer to their dreams. You never know!
Learn from your kids. If my 6 year old son can, what's wrong with you and me?
If you like this post, then show the love by sharing your thoughts.  Wishing all the fellow and future dad's a very HAPPY FATHER'S DAY!
Share a comment here..