This blog covers what I learnt from a recent office workshop on HCD – Human Centered Design. It is written in the form of audience (the real user)'s questions and what they absorbed from the session. After all, HCD is about keeping the real user at the center of it all!
We know CCD ☕.. but what exactly is HCD ?
HCD or Human Centered Design is a framework for designing solutions to problems and innovating while keeping the real user in the center of it all.
Okay.. but that we know as Design Thinking..
Well, if you're familiar with Agile and Scrum, then to put things in perspective between HCD and Design thinking, you can say that:
HCD is to Design Thinking what Scrum is to Agile
Design Thinking is all about keeping in mind how humans reason while designing solutions to problems and HCD is a framework to implement Design Thinking methodology through a well-defined, step by step process.
Okay ..but why do we even need HCD or Design Thinking?
HCD is a way to be ready for the time when disruption will hit you. Disruptions are happening all so often. Entire industries and even our way of our working or living are undergoing a sudden and a sea change – the hybrid work model, online education are the most recent pandemic / lockdown induced changes.
Disruption is either going happen to you or because of you… in any case, disruption is going to happen!
Few other classic examples are that of Netflix's killing Blockbuster, Kodak going bankrupt when digital cameras came in, and iPod succumbing to the streaming music apps like Spotify (2022).
We just cannot stop these disruptions from happening. This rise and fall is a natural phenomenon and is called the universal arc. All we can do is prepare ourselves. In fact, this readiness can even enable us to bring about a disruption for our own good!
Yes, and that's where Design thinking or HCD comes in.
I'm listening, but is this for me?
If you have a problem to solve, HCD is for you. It's not just about civil architects or software designers, it's relevant across industries and to everyone who is in the business of innovating or solving a human problem.
Hmm.. what was it again, sorry?
Human-centered design (HCD) is the process of creating products with human psychology and user perception in mind. It is careful, assumption-free design, informed by testing and analysis of real-life experiences.
And what's the step by step process HCD uses?
The following 3 Is form the basis of HCD framework:
Inspiration: which involves empathy interviews to help define the problem. Basically, to ensure we're solving the right problem.
Ideation: Brainstorming in a team to come out with a lot of ideas. Using sticky notes, voting mechanism to distill the ideas that are good to be taken up.
Implementation: which includes prototyping and testing to gather feedback to continue working through it.
Sounds pretty basic, can you give me an example of why being human centered is so key?
Architect at the Illinois Institute of Technology (Rem Koolhaas) left the pathways and sidewalks unconstructed when he designed the university campus building. The ground was left covered with grass. Koolhass observed that the students carved out fairly substantial ruts in the grass from walking the same paths over and over again. 
When it was clear which routes students preferred from the dorm to the library to the classes, the pathways were then built and even their widths were based on the uprooted grass with the number of students who walked together. 
Students (the real users) love it.
Well, I love that idea too now! What are the key principles behind HCD?
Leave your Ego at the door
Build on other people's ideas rather than crush them: Don't say "yes.. but", say "yes.. and"
Go for extreme users instead of average users.
How might we (HMW) questions: These're short questions that launch ideation. They're broad enough to include a wide range of solutions but narrow enough to impose helpful boundaries. Between the too narrow "HMW create an ice cream cone that doesn't drip" and the too broad "HMW redesign dessert", is the properly scoped "HMW redesign ice cream to be more portable."
Fall in love with the problem, not the solution
HCD is a combination of divergent (out of the box / covering breadth) and convergent (deep dive) thinking process.
I understand some of this, but what is this 'yes and' and 'extreme users'?
"Yes and": Anyone familiar with improv knows that "yes and" brings humor in conversation but that happens only because this technique opens the mind to possibilities and ideas.
Power cables at Idaho were damaged regularly as snowfall got accumulated on them. The team trying to solve this expensive problem frustrated as there was no viable solution in sight. One engineer said, "Can't we somehow have these beers to rub their backs on the poles holding the cables? That would make the snow fall off from the wires and problem would be solved."
Building further on this idea led to the solution which is in place in Idaho since last 10 years – they bring the helicopters to fly low over these forests which makes the snow fall down before damaging the cables.
QUIZ TIME: Another example is something we use everyday which started off like this. Can you guess what this is?
Extreme users: Many modern day inventions used by ordinary human beings were originally made for a specific extreme user. Having a set of extreme users as the focus ensures that the regular / average users are covered as well in the process.
Did you know? Alexander Graham Bell invented the telephone to support his work helping the deaf.
..But I'm equally hearing a lot of criticism of HCD on YT/ LinkedIn.
As they say, the proof of the pudding is in the eating – the way we worked together and came up with countless no of ideas, chose one or two and even created a prototype all within the time of the six hour training with people we'd met for the first time speaks volumes about it's effectiveness.
Manish Desai, Macquarie India Lead, was there to open the training for the attendees, which shows a strong management conviction. It's this conviction and leadership support that makes these frameworks work more than anything else in my view. I could feel the same conviction and enthusiasm among all the trainers. Kudos!
And what stood out was that the trainers are people from the ground – who have implemented this and have seen the results. It's not people selling an idea or talking fluff.
.. and at the end, us audience be like: Wow, got it .. can't wait to apply these learnings.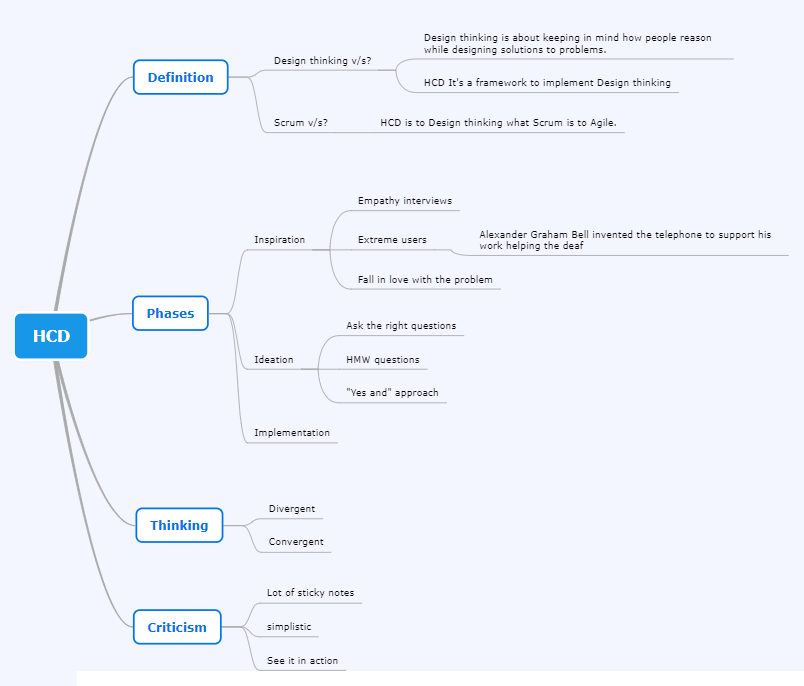 ---
If you like this post, then show the love by sharing it with friends and family. The best part of writing a blog is the discussion that follows, so do register your thoughts and views below.
---