Hi All,
Here's your weekly dose of "5-Bullet Tuesday", list of things I'm enjoying or pondering.
What I'm reading –
Lockdown has allowed you to time to read those old half baked draft writings of your own. The one I found the most interesting  was the one I had noted about the Indian version of the SKILL-WILL matrix. While the original one is taught in management schools, nothing can beat this indigenous version which goes like this.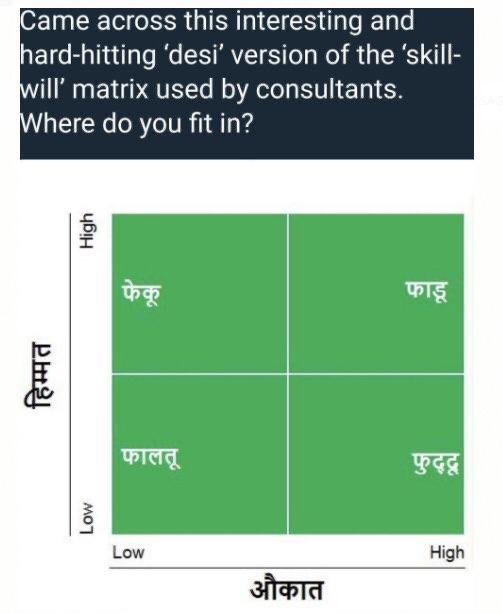 Quite relatable, isn't it? Take your time to understand and laugh (and contribute towards the world Laughter Day which was just last Sunday)
Now try placing your colleagues in each of the quadrants. It'll be fun. You yourself are, of course, Faadu! 🙂
What Movie I watched —
Finally watched the movie, The Sky is Pink, starring Priyanka Chopra, the Secret Superstar girl, Zaira Wasim and Farhan Akhtar. While the start is a slow, the movie picks up pace somewhere in the middle. Rented it from Apple TV for 150 bucks. I would highly recommend the movie, it's very fulfilling although it does become emotionally heavy towards the end. And more so, knowing that it is based on real life of  story of Aisha Chaudhary, and her family, whose real pictures and the song composed by her brother they show at the end.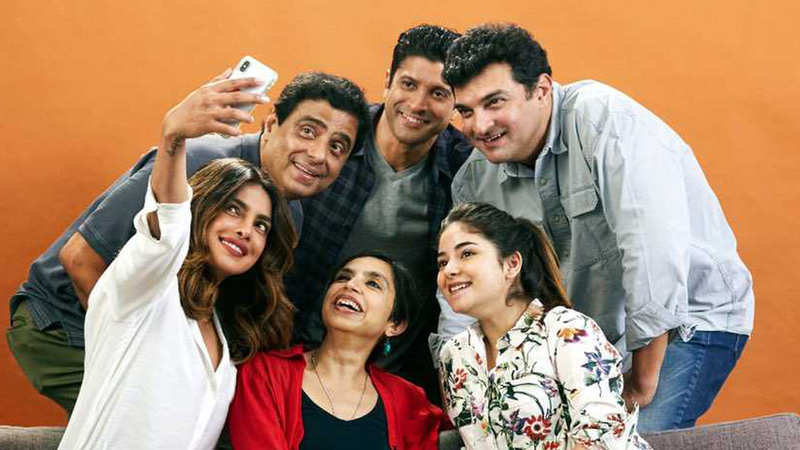 Affirmation I'm chanting –
It's extremely important to remain mentally and physically fit regardless of the circumstances. One thing that I'd recommend you do daily is to chant, write a daily affirmation. I usually go with one until I find another which I like more. Here's the one that's keeping me going these days:
I'm balanced.
I'm calm.
At the center off the life's storm,
I'm serene.
Web series I'm following –
So, you're looking for programs that you can watch with your family isn't it? I doubt if there are any completely clean family shows these days. They all have at least some abuse, vulgarity, or violence. But the good news is that perhaps your family's tolerance threshold has also increased with time, so I would still suggest you to go for Panchayat, if you haven't seen it yet. Anyone 7+ can watch although it couldn't completely hold my 11 year old son's interest for long.
Another one that perhaps require some more threshold limit is Ekta Kapoort's Fittrat, showing on ZEE5. This is the story of a smart go-getter girl, Tarini.
Fittrat is one of Ekta's shows that doesn't start with K, but with an F and F words don't end there, so be cautious, but other than that (well, and glamourising smoking throughout), I wouldn't mind watching with family.
There are a few places with adult humour but nothing vulgar. I have watched 6 episodes of the 15 yet. More on what my family likes about this show in the next bullet.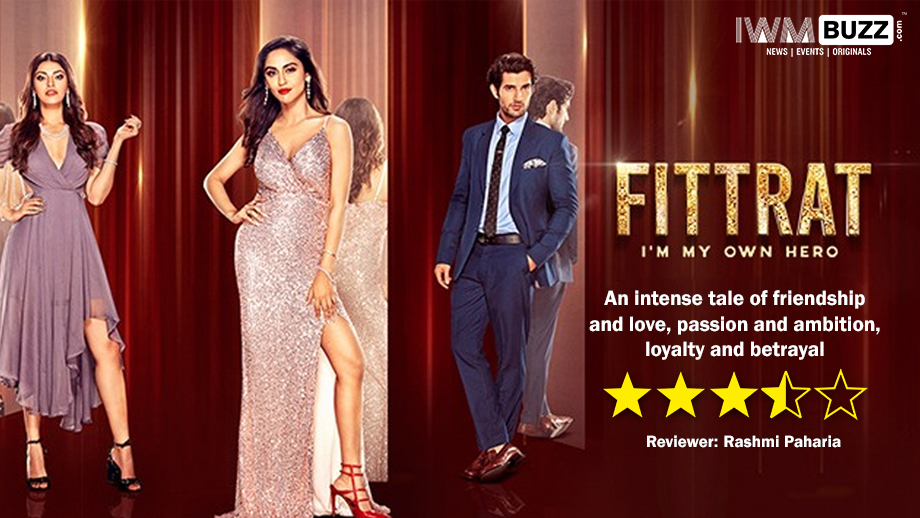 What family activity I'm doing –
One of the activities you can do while at home it to get your family to share their perspectives on a common thing of interest. For example, if you're all watching a show like in our case it is this web-series, Fittrat. Even though it is the same show you we're all watching, the  lens through which each pair of eyes is seeing is very different. You'll only come to know of that when you ask. When I interviewed my family about what is the best thing they like about this show, here's what they said.
My six-year-old, daughter, Sohana likes the way they've shown the friendship of the lead character Tarini and Amy, her chuddy buddy.  Sohana is looking forward to how eventually this equation would take a turn when Tarini falls for her best friend Amy's fiancé.
Tanav, my 12-year-old son is fascinated about how Tarini would eventually fall for Amy's BFFs fiancé, "that's really something I am looking forward to see.", my pre-teenager says.
Deepti, my wife loves Tarini's confidence in herself.
And as far as I'm concerned, I love how they've shown the luxurious lifestyle of the filthy rich, which is otherwise quite rare to see on small screen.
---
If you like this post, then show the love by sharing it with friends and family. The best part of writing a blog is the discussion that follows, so do register your thoughts and views below.
---
Share a comment here..