Hi All,
Here's your weekly dose of "5-Bullet Tuesday", list of things I'm enjoying or pondering.
What I'm watching —
It's the season of festivity and I'm no different when it comes to making the most of it.
Last Friday, my family and my sister's went to see the Ramleela at Punjabi Bagh Club. This was a condensed version of Ramleela which is called Sampoorna Ramleela and completes in just four hours. 
Everyone loved it from the youngest to the oldest among us, their age difference being over 70 years. It was an amazing fusion of the latest technology and the customary style. The costumes and the music added to the overall aura of fun and excitement. 
 There is a takeaway for diverse set of people as each verse and poem includes a significant life lesson. 
 What puzzle I've solved–
As we were standing eating Chaat (famous Indian roadside snack) at the famous Chaatwala at Connaught Place, Sohana, my six year old daughter asked me a simple question:
Everyone knows smoking is injurious to health, it even causes cancer, but still people decide to smoke. Why's that, Papa?
Why do people decide to smoke when it's not good for their own self?
She was looking at the man at the Panwadi (betel seller) next to the Chaatwala smoking a cigarette.
Good question, I said.
She continued to look at me. The look on her face told me she was looking for an answer better than that.
So, I added, Yes, they shouldn't!
But why do they decide to smoke? She reiterated.
I couldn't think anything better, and said, Perhaps because they're fools.
She said, He doesn't look like one though Papa!
I looked at this smoker who I noticed was a well built man with decent looks.
Ok, pass!, I said, giving her a hand a clap, as if she had asked me a new riddle she had learnt at school to which I didn't know the answer.
She was not impressed. And to be honest, neither was I!
Okay, I said and walked straight to this guy, and asked, Sir, my daughter and I'm doing a little survey. Would you like to participate?
He was a bit puzzled but gave me a nod.
I repeated Sohana's question, Why did you decide to smoke when it's not good for your own self?
He was initially surprised, then took another puff and whispered in my ear, To be honest, I started smoking because my Dad told me not to!
I smiled and told that to Sohana. She also laughed. But perhaps there was some truth in his statement.
We are mostly given instructions about life – Do this, Don't do that. That's it.
But has anyone ever taught you how to make decisions in your life? How to decide what to and what not to do?
Think of your own life: Haven't you made decisions to prove something to someone or even to your own self?
Why?
Because you don't know any better. You still make decisions, without having any process around it. And then, we complain that things are not going right for us -bad grades, career crisis, divorces and so on. 
Well, the root cause is the lack of an understanding of decision making process.
With that puzzle solved, you may want to know how to fill this gap, isn't it? For that, read the next section.
Youtube video I'm in love with—
This video tells a short hilarious story to make a point. I will let you watch it and won't play a spoiler but this will surely teach you a thing or two about how to improve your decision making skills, quickly.
Watch it when you have 6 minutes: 46 seconds to spare. It will be worth it.
New iPhone feature I discovered–
We went to this new restaurant last evening at East Patel Nagar, Delhi. It's called Pinjore. It had such an amazing decor, good food, and fantastic service.
Everything that you can think of was simply great. They serve non vegetarian food and don't serve alcohol.
We were nine of us and the bill was Rs. 3690.82 including taxes. That comes to around Rs 400 per person.
Not bad at all for the great time we had there!
So, when we were about to be done, the Bollywood songs that were playing changed to a Punjabi number. The mood was already set and the Punjabi music was the kinds that would make you want to get up and shake a leg.
Anyway, I wanted to know the Singer and Song so I could play that later in my car. However, I couldn't catch the lyrics and asked my 11 year old son, Tanav, to ask the waiter or the restaurant staff.
In return, Tanav asked me for my phone. Then, he long pressed the round button on my iPhone to invoke Siri.
Siri appeared like the genie in a bottle.
Siri: What can I help you with?
Tanav, "Which song is this?"
Siri, "Listening…"
And then the magic happened, with the following screen appearing..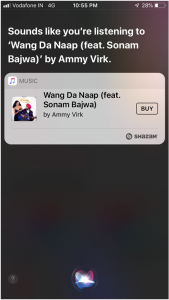 I tried this with several others songs, and have to admit that it has an impeccable accuracy.
I asked Tanav if this feature was available on Android as well. He humbly nodded.
Definition I'm pondering
Someone told me his definition of Hell:
Hell is your last day in this world, when the person you have become meets the person you could have become!                                            
---
If you like this post, then show the love by sharing it with friends and family. The best part of writing a blog is the discussion that follows, so do register your thoughts and views below.
---
Share a comment here..