Hi All,
Here's your weekly dose of "5-Bullet Tuesday", list of things I'm enjoying or pondering.
Movie I watched—
"We'll drink together when you get through IIT. Here's the bottle." tells the Dad to his son who is already under performance stress and pressure.
The son has written the test well and is very hopeful he will crack it. But his examination roll no. is entered to see the online results, all the screen gives back is, "Better luck next time!"
In case you haven't guessed which movie that scene is from, that's from the movie, Chhichhore.
Biggest lesson for me from the movie was that we, as parents, just tell our kids what we will do if they get an A+ or get through an entrance test. It could be a big gift, a dream holiday, PS3 or like in the movie, a session of drinking together for the first time!
However, how often do we simply forget to add what will happen in case the kid doesn't get a good grade, or gets rejected or fails?
The boy in the movie, Raghav, thinks he is a LOSER. He is unable to cope with this failure and jumps off from the building.
Acronym I loved –
So, the movie Chhichhore left an impression on me long after it ended.
Call it selective attention that after watching the movie, as I was browsing my LinkedIn feed, I saw a friend, Sanjana's post that triggered a little mindset shift in me about losing and LOSERS.
Here it is for you: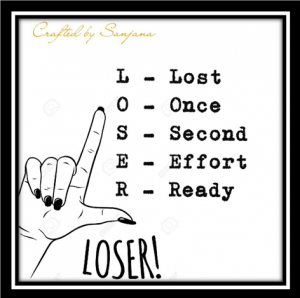 Beside this image, she had added: I am a loser and that's okay!
I completely agree.  
After all, Successful people are not those who never fail. They are those who do fail but get up stronger every time they fall.
A Paper trick I learnt –
We all know how the habit of daily journaling can makes as ultra-successful. But then, not always can you carry a bulky journal around where ever you go – office, for example, or when you're travelling!
This video teaches a quick and simple way to make a tiny journal or mini book out of a single slice of A4 sized paper.
This little video came in handy for me on my journey from Jaipur to Delhi by train. I used the IRCTC food menu paper (it has one side blank) to create a mini diary which I used for my weekly goal setting exercise. 
It can be used as an affirmations card, or simply as a fun activity with kids. Check it out here when you have 7 minutes 23 seconds.
Question I loved –
What according to you is the single most important quality that makes successful people successful?
Whenever I ask that question to my audience, I get a plethora of answers ranging from empathy, relationships, learning mindset, resilience and so on.
The answer usually surprises the audience.
According to a survey of top CEOs companies, the single most important trait that makes successful people successful is self-awareness. Self-awareness is "the capacity to monitor and self-regulate one's internal world."
Now, in a world where we are constantly rushing, panicking and reacting, that's certainly some food for thought.
Quote I'm pondering —
Hard choices, easy life.
Easy choices, hard life"
 – Jerzy Gregorek
Take a minute to soak that in.
Hard choices are forcing you to act: Take risk. Sacrifice television for studying.
Hard choices are learning how to do something rather than just waiting for someone else to do it for you.
So will you go to the gym today (hard choice) or press snooze for some more sleep (easy choice)? 
---
If you like this post, then show the love by sharing it with friends and family. The best part of writing a blog is the discussion that follows, so do register your thoughts and views below.
---