I
t was a colleague (Minal's) last day at work last week. The Project Manager, Gemma, put together a fun "
online"
farewell meeting. It was meant to be a little break from work for all the team, fun and of course wishing the best to our outgoing colleague.
To make it fun, Gemma had come prepared with the idea of playing Pictionary. It was really fun and although I thought I had played almost every possible online game since the Pandemic hit last year, but I hadn't played online Pictionary.
It was a simple format. The person who would be given a word would share their MS Paint and draw on it while everyone else guessed. The one who guessed the exact word first would win. Each person would be given two minutes to draw and get others to guess the word.
There was of course some playful cheating as well – most of us just couldn't keep our mouths shuts and kept giving verbal hints.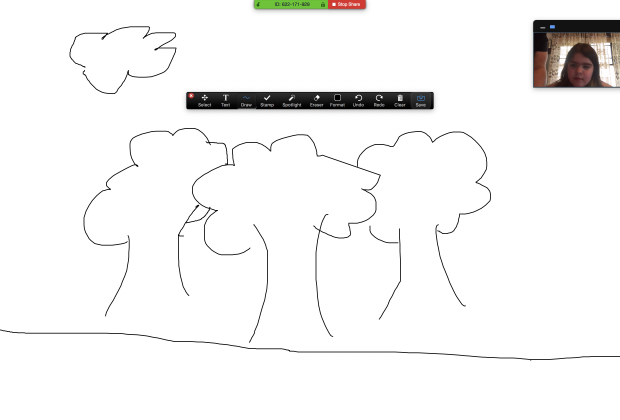 The word I got was "zombie". I was somehow able to draw something and give some hints to get someone to guess the word. All well there, but the kind of person I am, I would think and analyze quite a bit – why did this word come to me, is there a sign from up above. 
Was this because I'm, off late, living my life like a zombie?
I do see my self floating around aimlessly sometimes. I'd jump from one task to another without finishing the previous one off. I'd feel unaccomplished at the end of the day, unsure whether I achieved anything worthwhile. I'd have strong feeling of FOMO through the day. I'd keep switching between personal and professional commitments being anxious about whether I was doing justice to both.
Have you also ever felt that way? 
If you have, then I'd like to tell you that the one thing that can surely help you is journaling.
And while there are endless formats, apps and diaries that you can pick, but the one that works best for me is a One Pager Template.
I have used this to do things which I thought were impossible for a person like me. Seriously. And I am reminded of this template every time I feel I'm going slightly off track.
I have curated this template through my years of experience, training and reading scores of books on personal development.
This time around, I converted this into a MS WORD format to make it handy reference for myself and my friends. All you have to do it take a print of this. It is already in A4 print ready format.
It is so simple that you may not believe how powerful it could be. However, don't ever underestimate the power of simplicity.
Here's it for you. One Pager Template – Mohit Sawhney
Fill it in the morning (during your Holy Hour) and keep it in your pocket through the day. Pen things on it as you pass through the day, and just before you close the day.
Few days down the line, you may be surprised at your achievements. You will see your zombi-ness shift to intentionality, and most of all, you will see yourself contented and happy. That's when you can come back here and drop me a "thank you" message.
Until then, enjoy driving your days.
---
References:
The connection, contribution and vitality heads come from Jonathan Fields, "Good Life Project" book.

Your Vitality Bucket is about optimizing your state of mind and body. Things such as attending theatre, playing soccer, going to a place of worship or exercising are some examples.
Your Connection Bucket is about cultivating deep and meaningful relationships. Calling up a dear one, listening closely to what they're saying, being empathetic with your customers are some examples.
And, your Contribution Bucket is about the way you contribute to the world. A good life happens when all three are full. Writing a blog others would find useful, doing a task, teaching students at your alma mater are some examples.

If you're confused why Challenges are clubbed with opportunities, well that's because opportunities come disguised as challenges. The great people ask, WTOH, or "What's the opportunity here?", and then gradually the opportunity unfolds. Robin Sharma says – "a problem is only a problem when viewed as a problem." Start looking at your challenges as opportunities and see how it changes your life.
---
If you like this post, then show the love by sharing it with friends and family. The best part of writing a blog is the discussion that follows, so do register your thoughts and views below.
Share a comment here..